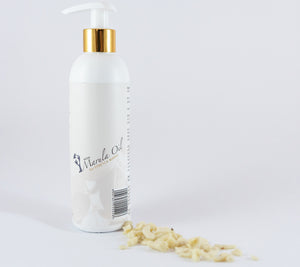 Experience the natural power of marula oil from Mozambique with 250ml MOZaic Marula Oil for Stretch Marks. Our 100% natural, cold-pressed marula oil offers your skin the nourishment it needs to stay healthy and hydrated. With its high concentration of vitamins E and C, amino acids, and fatty acids, it helps your skin maintain its natural balance while resisting dryness, redness, acne, and more. Plus, our oil is safe to use before, during, and after pregnancy. For maximum benefits, apply daily for 3 months or more. Transform your skin today with MOZaic Marula Oil!

Click here for information about our shipping arrangements. 
PRECAUTIONS: Persons with nut allergies should do a patch test to determine if skin irritation occurs. Test by applying a small amount of marula oil to the inner skin of the forearm and wait for 24 hours to see if a reaction takes place. 
STOP USING MARULA OIL IF SKIN IRRITATION OCCURS.