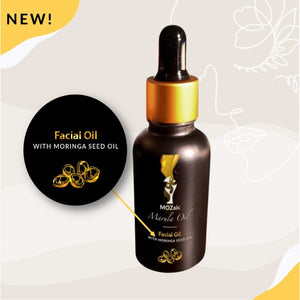 Experience the nourishing touch of our Facial Oil featuring natural, cold-pressed marula and moringa seed oils. Our lightweight oil quickly absorbs, leaving a silky-soft feel with no greasiness. Enjoy all of the natural, hydrating, emollient, and healing benefits—all without clogging your pores! Its highly nourishing oil seals in deep moisture, leaving your skin feeling silky soft and with a healthy glow that enhances your youthful appearance. Love your skin with this luxurious and nourishing treatment!
Read more about the amazing benefits you can enjoy with our Facial Oil. 

Click here for information about our shipping arrangements. 


PRECAUTIONS: Persons with nut allergies should do a patch test to determine if skin irritation occurs. Test by applying a small amount of marula oil to the inner skin of the forearm and wait for 24 hours to see if a reaction takes place. 
STOP USING MARULA OIL IF SKIN IRRITATION OCCURS.