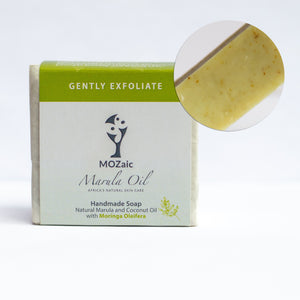 Indulge your skin with lavish cleansing and nourishment from the decadent combination of marula oil and coconut oil. Let the delicate yet powerful exfoliation and nourishment of moringa oleifera leaf powder rejuvenate you, leaving your skin visibly younger looking and feeling.
Weight: Approximately 165g
For an additional full-body experience, we highly recommend our 100ml MOZaic Marula Oil bottle filled with 100% natural marula oil. Apply it as a body moisturiser after washing your skin.  Your skin will be warm and more receptive to absorbing the rich nourishment of marula oil after a bath or shower.
You may also love our MOZaic Marula Oil Moringa Elixir Serum; not only because it is an ideal topical treatment for acne-prone skin. This product provides you with the rich nourishment of marula oil enriched with moringa oleifera to improve the overall appearance of your skin. 
 Click here for information about our shipping arrangements.