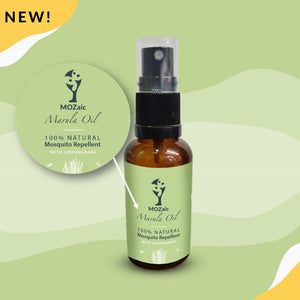 Experience a gentle, alluring aroma with our 100% Natural Mosquito Repellent with lemongrass! It's the perfect scent to ward off pesky mosquitoes. Apply it every few hours to ensure your skin is protected from these bothersome creatures while being nourished with luxurious marula oil. Feel confident knowing you have the powerful protection of nature on your side!
Read more about the amazing benefits you can enjoy with our 100% natural Mosquito Repellent with lemongrass.

Click here for information about our shipping arrangements. 


PRECAUTIONS: Persons with nut allergies should do a patch test to determine if skin irritation occurs. Test by applying a small amount of marula oil to the inner skin of the forearm and wait for 24 hours to see if a reaction takes place. 
STOP USING MARULA OIL IF SKIN IRRITATION OCCURS.